Top 10 Marketing Automation Platforms For Shopify
Introduction
Shopify is one of the best e-commerce platforms today. It caters to millions of businesses worldwide and allows merchants to sell their products by providing a functional store point of sales combined with point of sale support. This means that you can comfortably run your business from anywhere and still get help whenever you need it.
Besides its high functionality, Shopify also features a wide range of eCommerce tools to increase store efficiency, boost sales, and provide valuable customer insights. Despite all its resources online store points, running your personal Shopify business without any marketing automation platforms built for Shopify, can be challenging .So what are the best Marketing Automation Platforms For Shopify?
It often involves numerous daunting tasks like marketing, shipping products, optimizing store speed, managing inventories, and securing checkout systems. But the good news is that the constant industrial evolution witnessed across the world is continually fostering the adoption of different strategic approaches. One among them is leveraging process and journey automation through strategic and intelligent use of marketing automation platforms for Shopify ecommerce platform.
Why Marketing Automation For Shopify?
Many small businesses selling on Shopify begin by doing everything themselves. From product procurement and inventory management to customer service and packaging, all of these relatively small duties combine into a hugely time-consuming business.
Your marketing alone can quickly become a full-time job. You end up juggling multiple projects, deadlines, and can quickly get lost in the spaghetti of hundreds of small tasks that only take a few minutes to perform. Even as you prioritize your projects and cleverly allocate your resources, as your business expands, it just doesn't seem to be enough hours in the day. This is where you should look to automate as much of your business as possible. For such draining tasks Marketing Automation Platforms For Shopify help.
With a good Shopify marketing automation solution in place, it feels like you've hired someone to manage your online store's sales and customer support. A smart marketing automation platform for Shopify offloads a lot of manual chores and replaces them with intelligence driven automations.
The top use cases of marketing automation platforms in Shopify stores are to lower the number of abandoned carts, automate order fulfillment, drive new customer acquisitions, retain customer base, nurture higher-value customers, reduce the costs of advertising campaigns, and ultimately unlock a higher marketing ROI.
Which is the Best Marketing Automation Tool For Shopify?
Businesses can choose from the numerous Marketing Automation Platforms For Shopify and software in the market that support different communication channels like Emails, SMS, Chatbots, Instant Messengers, Phone Calls, Push Notifications etc. An excellent state of art marketing automation platform for Shopify will help you deliver the omni channel customer experience that helps foster a strong customer loyalty. Most importantly you need a SaaS based tool that allows access through any device from any location.
If you're going to invest in marketing for your Shopify store, you need to make sure you have the right marketing automation tools in place to help you make the most of it. As you know marketing can generate upto $38 for every $1 spent.
But what actually matters when it comes to choosing the marketing automation platform that's best for Shopify store? Based on evaluations and information from significant eCommerce businesses, we've narrowed down the list of top 5 marketing automation platforms for Shopify.
Top 10 marketing automation platforms for Shopify
Let's dive in!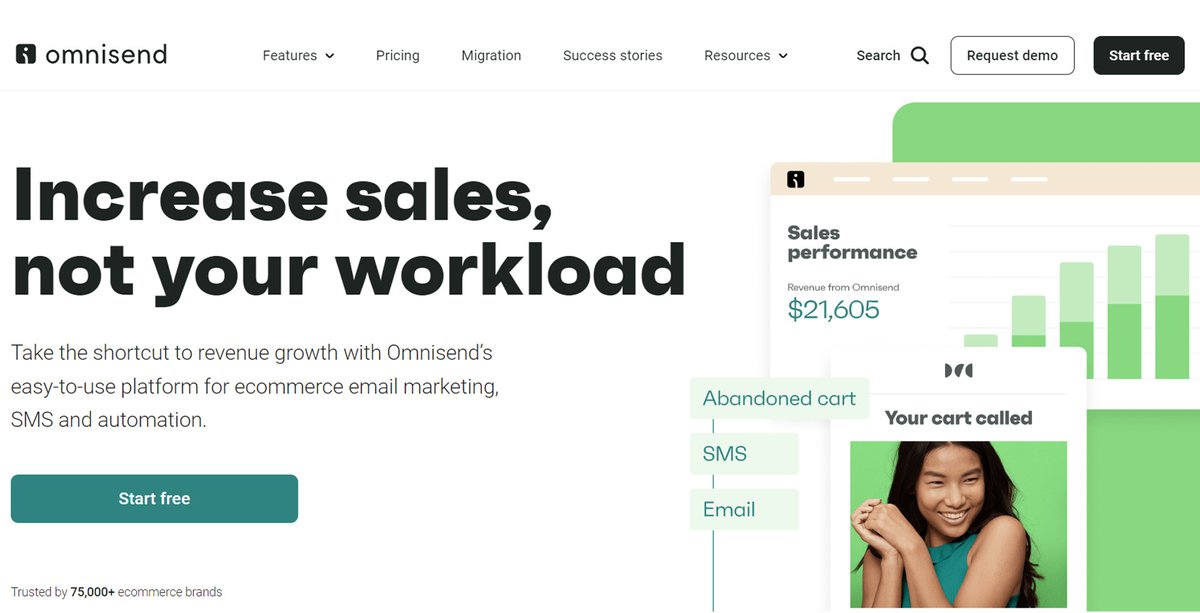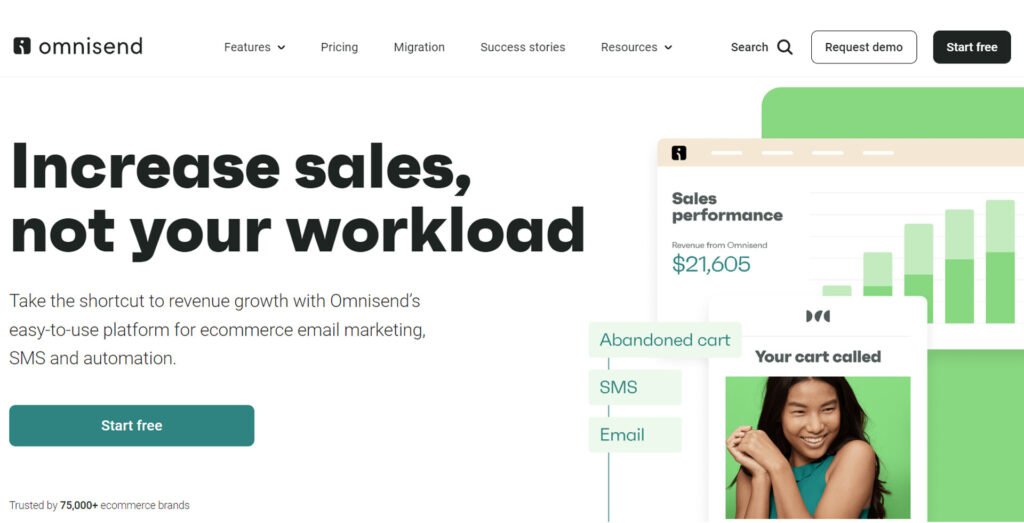 1. Omnisend
Serving for seven years in the industry with 70k+ happy customers worldwide, Omnisend helps eCommerce firms make their Shopify store marketing relevant by sending targeted messages to the right person at the right time. The selection of pre-built automation processes targeted at various stages of the customer journey and straightforward, no-code editing makes Omnisend a breeze to use.
Key Features
Ready-to-use Templates – that are configurable for Shopify and a drag-and-drop content editor.
Increases subscriber count – Omnisend collects customer information via TCPA and GDPR compliant forms and converts them into new subscribers.
Reporting tools – Along with business' campaign reports, it provides detailed sales and performance metrics.
Segmentation – Omnisend creates categories based on customers' buying habits and specifics, which an eCommerce enterprise may use to boost open rates.
Zavops Offer: Complimentary 10 hours of design, development and other technical consulting services for Omnisend by our experts, when you convert to a paid subscription of Omnisend. Avail the offer.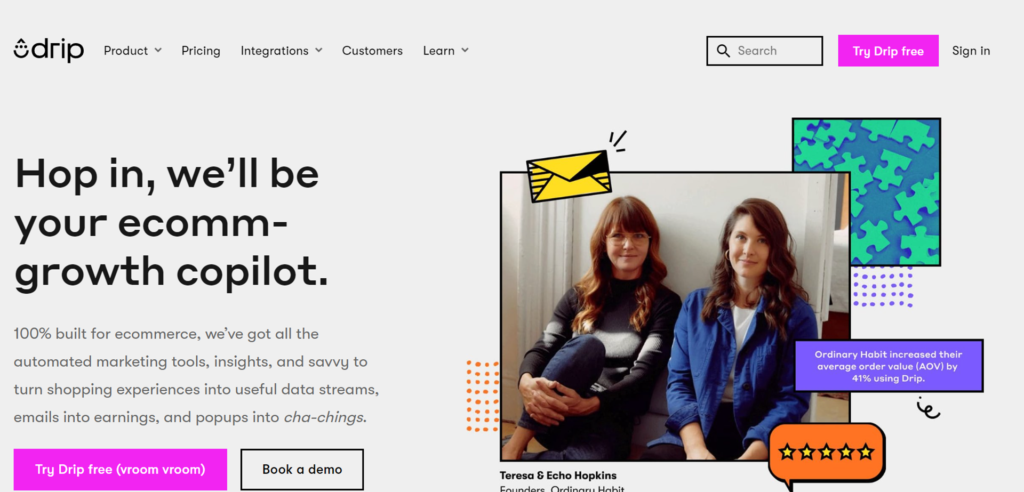 2. Drip
Drip, the automated marketing platform designed to help growing ecommerce brands grow even more. How? Spot-on email marketing and onsite personalization backed by data and borne through unrivaled segmentation. Audience-growing forms, slide-ins, and popups. Customer support that's way more a copilot than a cookie cutter.
Key Features
The easiest integration ever- Get up and running in minutes with seamless Shopify integration. Get your Shopify data while it's hot, then use it to fuel marketing strategies that work.
The brilliant segmentation- Sayonara, list-based sends. Tap into dynamic, money-making segmentation that lets you hyper-customize audiences, deliver better shopping experiences, and connect with customers like never before.
Proven pre-built workflows that run the ecomm show- Access pre-built workflows designed around industry best practices and high-converting logic. Take things a step further and split test up to five workflows at a time until the engagement sticks.
Automation that takes "schedule emails" off your to-do list- Save yourself a boatload of time with easy popups and email automations. Reach inboxes at the right moment, with just the right message and mood to bump click-through-rates and boost sales.
Emails are easy- Pick a template, add your brand glam using our oh-so-easy visual email builder, and send thigh-converting emails, forms, and audience-growth campaigns in minutes.
Zavops Offer: Complimentary 10 hours of design, development and other technical consulting services for Drip by our experts, when you convert to a paid subscription of Drip. Avail this offer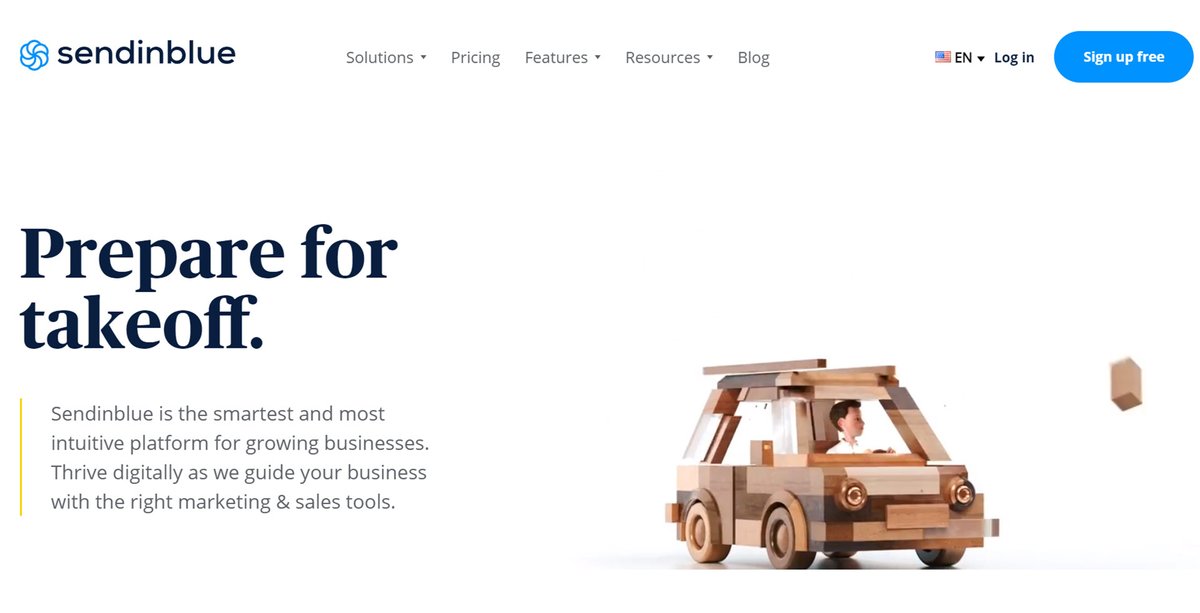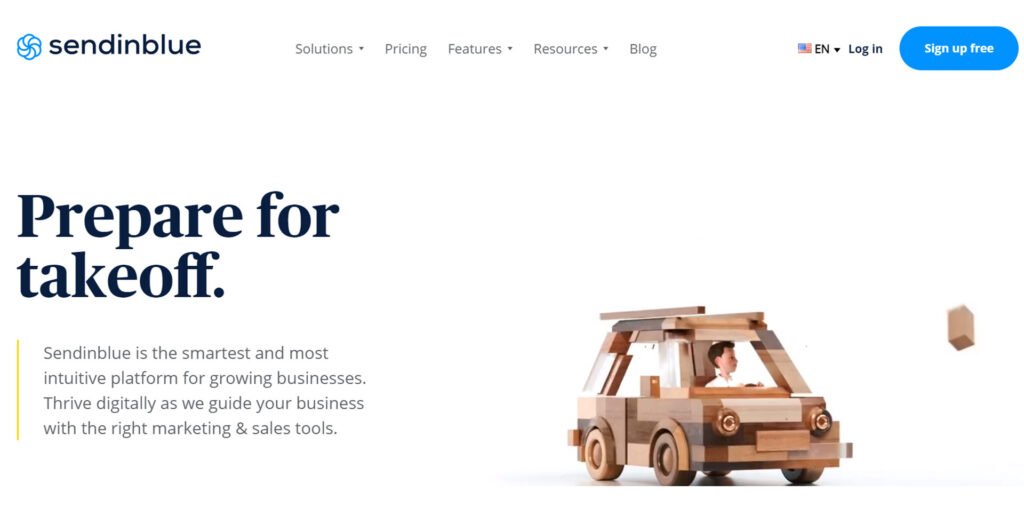 3. Sendinblue
Sendinblue is an email marketing software that was started as a digital marketing agency. Later, they realized their dream to provide email marketing software to marketers in small and medium businesses.
All of its features, pricing, and support are designed especially for small and medium businesses. It also offers cloud-based digital marketing tools for over 1,00,000 companies around the world. It is one of the efficient Shopify email marketing apps.
Key Features
Email template library – It has a variety of email templates where you can use its drag and drop editor. Create as many professional email templates for your audience and impress them with beautiful designs and good copy.
A/B testing – You can find the best message using its A/B testing feature and make your campaigns data-driven. It helps in getting more open and click-through rates. You also get real-time reports on your emails. It gives you accurate data as a Shopify email marketing app.
Segmentation – Create targeted segmentation of your subscribers using their location, gender, age, and many more criteria. This way, it makes your email campaigns more precise and gets more conversions. And the more relevant your emails are, the more you can engage with your audience.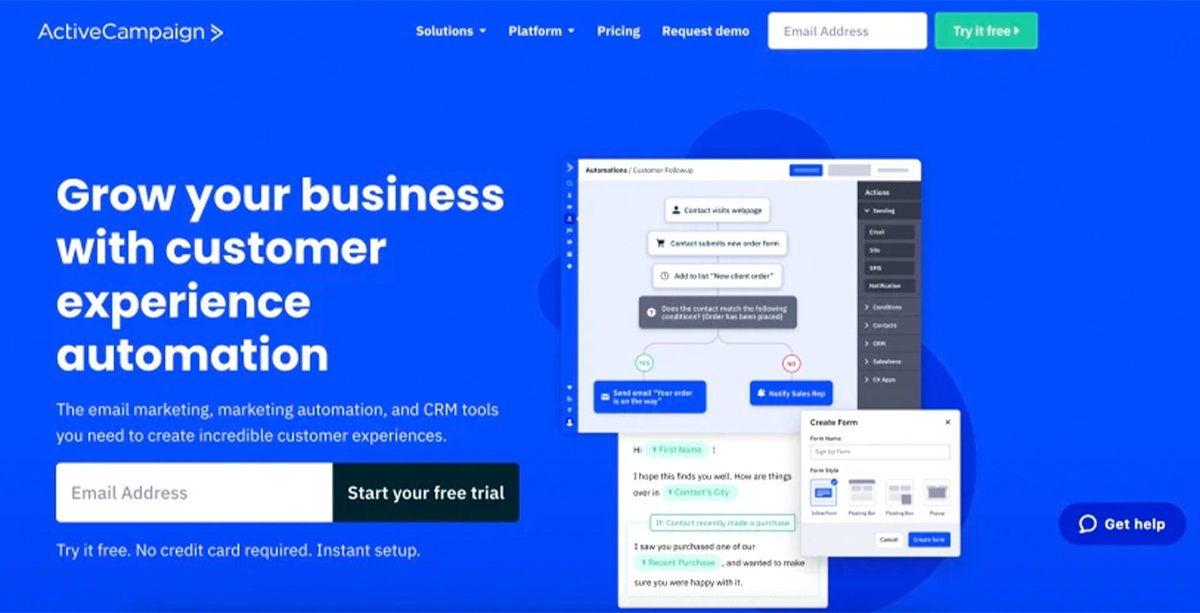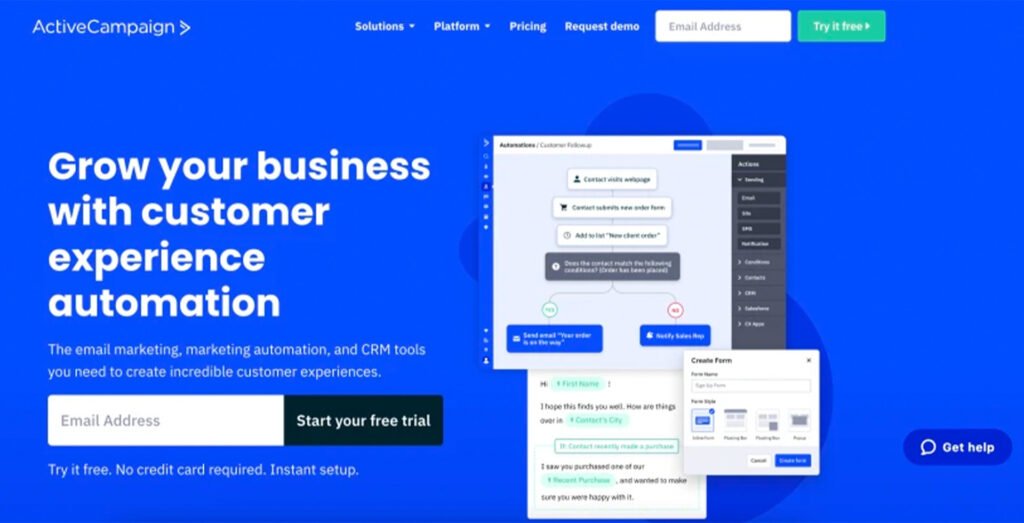 4. Active Campaign
ActiveCampaign is another Shopify email SaaS based marketing automation app for Shopify that offers a compelling marketing automation platform. This Shopify email marketing app was founded in 2003 by VandeBoom. Though it started as a consulting firm, it expanded its capabilities as an on-premises software provider to help small and midsize businesses automate marketing tasks and manage contacts. Its Shopify integration is so easy that Shopify store owners can sync customers between Shopify and ActiveCampaign accounts without any hassle. The active campaign software has so many Shopify email marketing features, but it does not stop there wholly. They offer many more digital marketing activities for Shopify store owners including smart paid advertising to SMS and much more.
Key Features
Easy Shopify Integration – This Shopify email marketing app syncs customers and their data between Shopify and ActiveCampaign accounts without any hassle.
Shopify Automation – This is Shopify's flagship feature and offers powerful, easy-to-use Shopify email marketing automation builders.
Easy Migration – Active Campaign offers easy-to-switching options from one email platform to another email platform due to their free migration service.
Shopify Email Segmentation – Active Campaign offers excellent Shopify email segmentation capabilities with the ability to sync customers to different lists.
Drag-and-drop Email Builder – It offers an easy-to-use drag-and-drop email builder to create beautiful Shopify emails and send engaging email campaigns.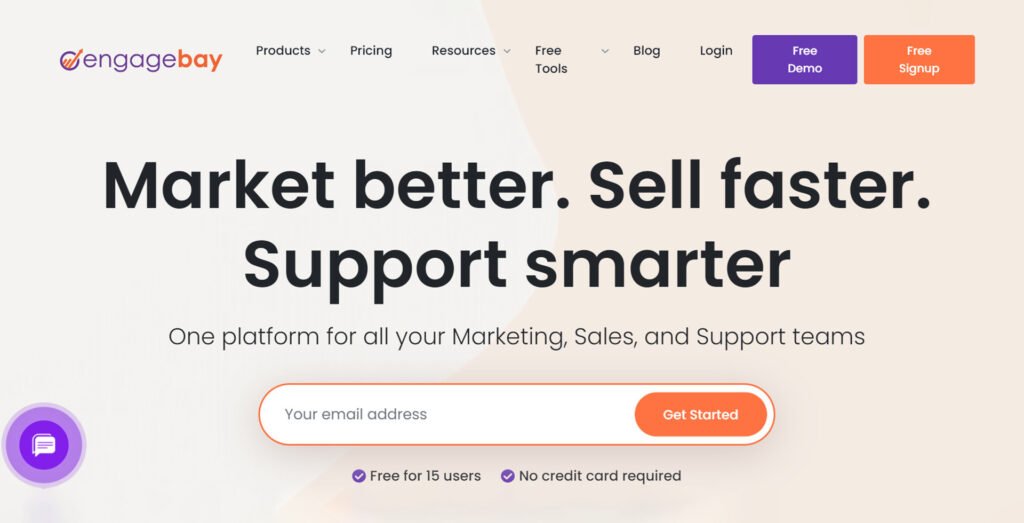 5. EngageBay
The efficiency of using EngageBay is in its easy-to-use feature. It is a new and upcoming customer engagement and all-in-one automation Shopify email marketing app from TargetBay.
With EngageBay, you will never worry about customer engagement ever again! You also get the best segmentation feature and Shopify email marketing automation. Not only that, it has the perfect list management available for your Ecommerce store's use. EngageBay will amaze you with its FREE 250+ email templates designed for absolutely all the occasions that you will need for your store.
If you are looking for a simple Shopify email marketing app that will fit within your budget and also sophisticated list and segmentation, then, EngageBay is the right Shopify email marketing app for you.
Key Features
Simple Email Builder – EngageBay's best feature is its extremely easy-to-use feature. Everything is simplified for your use. If you still need help, you can check our knowledge base page in the app for clarity.
Smart Segmentation – You can segment your customers based on their demography, gender, shopping history. It also has smart segmentation.
Standard A/B Testing – EngageBay gives you the option to choose between a standard email campaign and A/B testing. Using the A/B testing gives you the advantage to understand which subject line and content worked in your favor!
Import Details – It automatically fetches product details from your Shopify store. You can also update your existing customer details using a CSV file.
Insights – EngageBay gives you clear insights on open rates, conversion rates, CTR, sales, leads generated, customer engagement, etc. This will help your campaigns in the long run.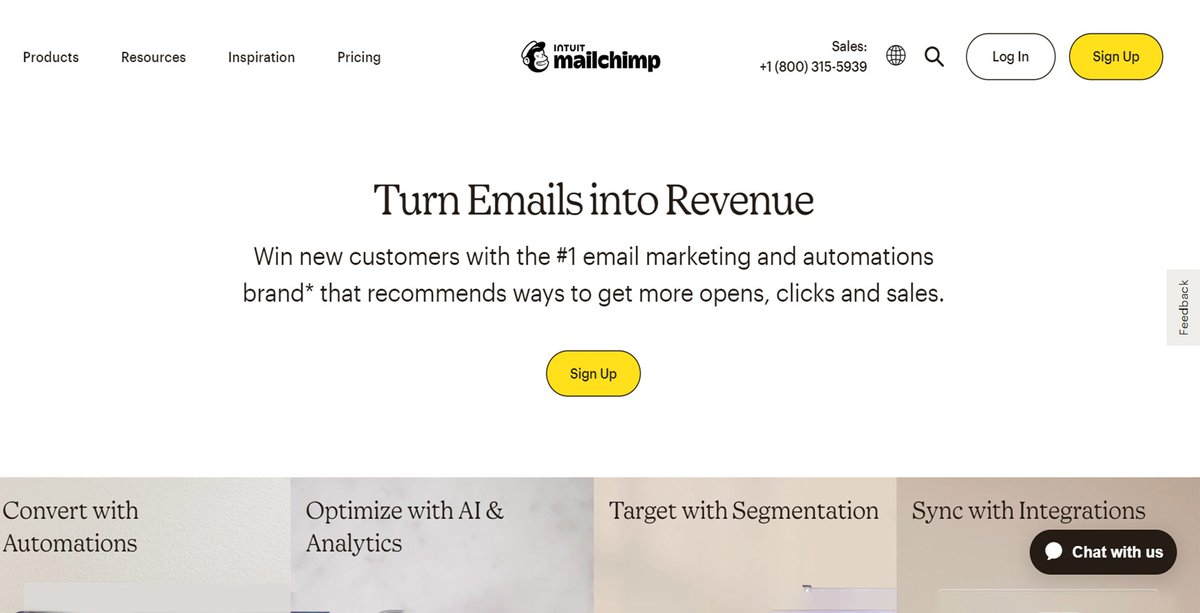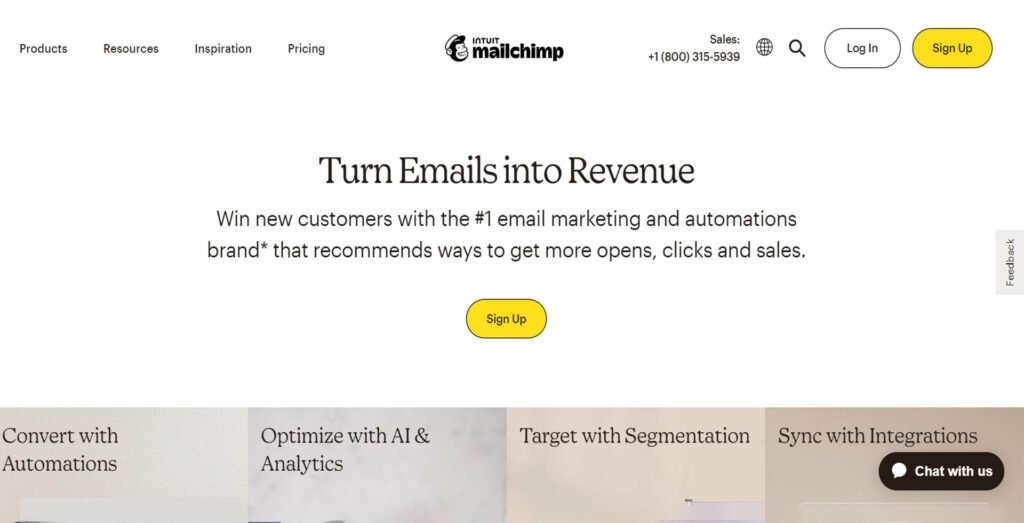 6. Mailchimp
Mostly known for its drag-and-drop email builder, attractive template choices, and near-unlimited automation options, MailChimp is easy to use and has great features for small businesses.
As with all entries on this listicle, MailChimp works with a tiered pricing system, where they offer an increasing amount of features for every extra amount of money you give them. Unlike all the others though, MailChimp's lowest tier is entirely free. That in itself is one of the main reasons why it's such a popular platform.
However, there's bad news for MailChimp fans. You won't be able to integrate it directly with Shopify since MailChimp recently discontinued it. That said, there are still ways around it. For instance, you can use Zapier to connect your Shopify store to MailChimp.
Key Features
Syncing Customer Data – You can track individual visitors of your website attracted by your Mailchimp campaigns. First capture order information then pass it all back to Mailchimp. To get the data and check history visit the Reports page in your account for purchase details, conversions, and total sales.
Segmentation – You can send emails to customers based on the ordering frequency, particular purchases, order totals, memberships and more.
Product Recommendations – You can check the subscriber profile page to see which products will appear in the recommendation block in the email to this subscriber.
Personalisation – You can sell more stuff with powerful automations. Talk to your customers just like you would. It means that you can focus on running your business. Send an on-boarding series to introduce new subscribers to your business. Enable automatic follow-ups to customers who've just subscribed or purchased a product. Surprise your best subscribers with a coupon triggered by their shopping behaviour.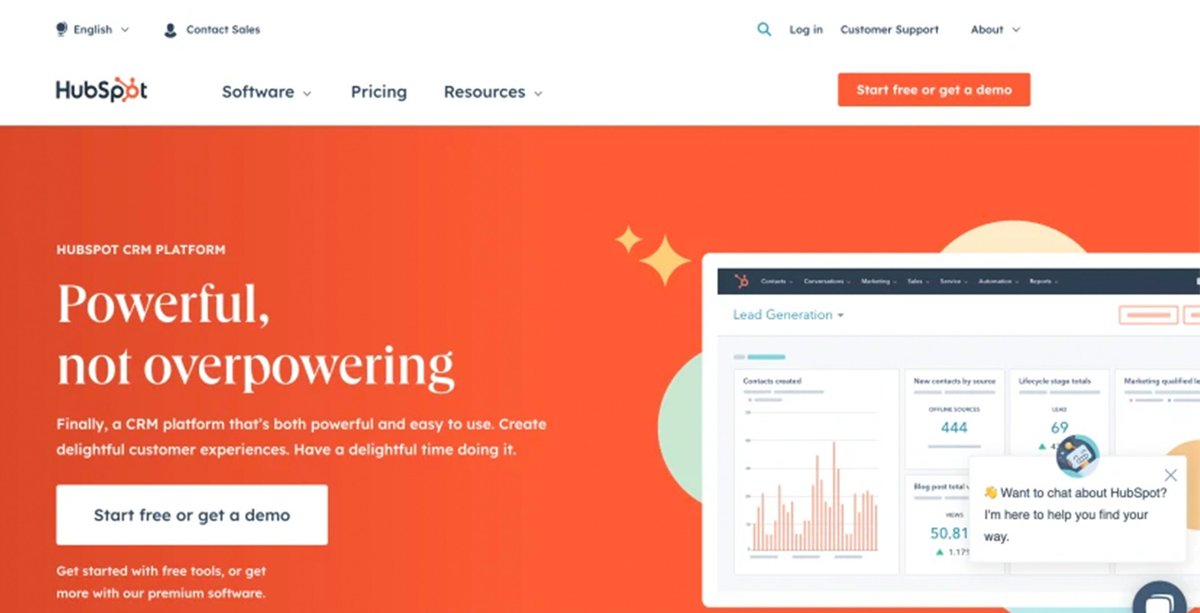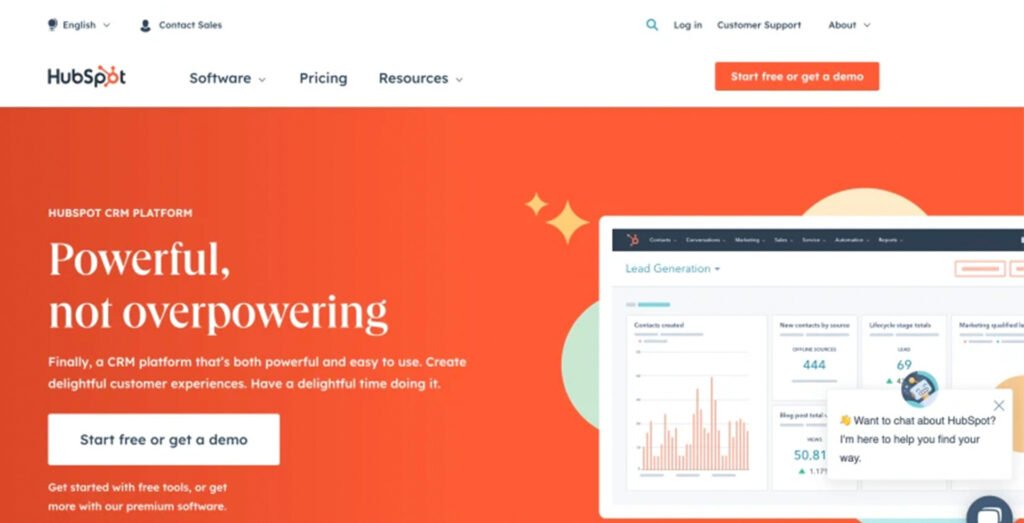 7.Hubspot
The integration between HubSpot and Shopify is great for bolstering your customer loyalty and turning one-off buyers into loyal brand advocates.
Automatic and personalized communications can be sent out to your synced contact book to inspire future purchases for your customers. This tool can also be used for welcome emails, follow up emails after purchases, requesting product reviews and will send relevant products to customers depending on what they've previously bought.
It will also lessen the impact of abandoned shopping carts. Whether your customers have left your site without making a purchase because they've changed their mind or have simply forgotten, HubSpot allows you to smoothly recover abandoned carts through workflow emails that are sent to customers who can then complete their purchase with a single click.
This technique is proven to drive revenue and increase the value of your average customer.
Key Features:
Free CRM- While the HubSpot CRM is technically its own standalone feature, it made this list because it's what makes so many of the marketing hub features function the way they do. The CRM is at the heart of HubSpot — and it's free.
Landing Pages- Landing pages are a critical part of any marketing strategy, and being able to spin them up in no time without needing to loop in designers or developers is a major time saver.
List Segmentation- In HubSpot, you can create lists, which are groups of contacts in your database that are alike based on criteria that you have dictated. You can group these contacts based on a ton of different things like page views, lead score, interactions with emails, number of interactions, form fills, last activity or any of the properties that you are storing on your contact records.
Workflows- Automation is a beautiful thing for marketers — it makes daily tasks and activities simpler and more intuitive. HubSpot workflows are used to automate tasks like email sends, list building or property filling. This is done through the selection of certain criteria or rules that trigger the action needed.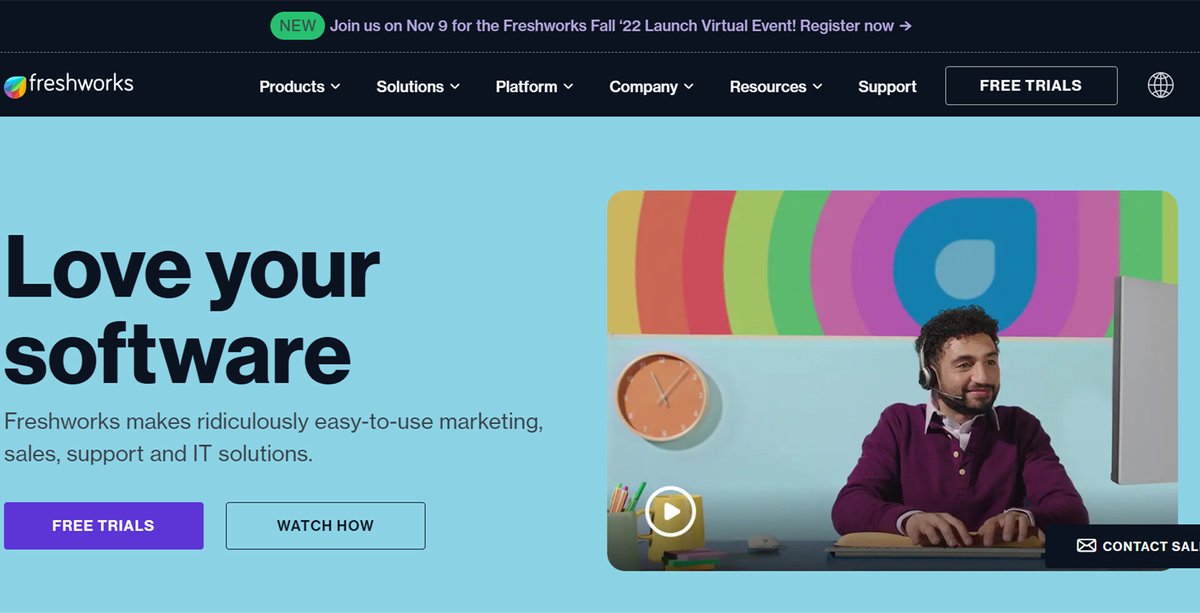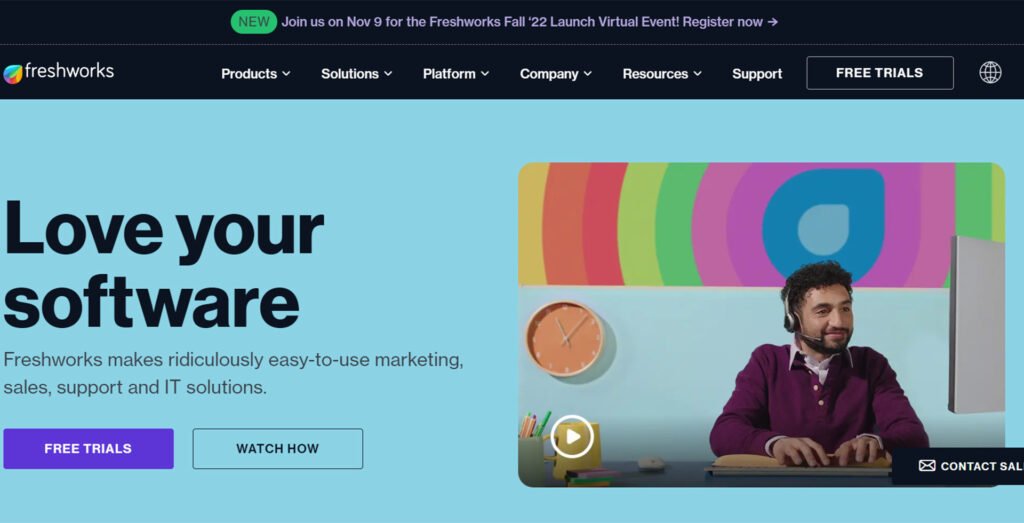 8. Freshworks
Freshworks integrates with Shopify, adds messaging and intelligent chatbots, and joins e-commerce, marketing and customer service, in a new offering for online retailers.
The messaging channels available include WhatsApp, Apple Business Chat, SMS and Line, with Instagram expected soon. Agents can also use the Freshdesk native Textline messaging product to interact with customers. There are various pre-built chatbot templates for e-commerce, and agents can see order information when dealing with customer issues. So for example, if a customer contacts support with a returns query at the same time as filling up a new shopping cart, the agent can see that this would be a good time to reinforce customer goodwill by waiving the restocking fee on that return.
It's also possible to allow customers to set preferred messaging channels, so for example if a customer has put several items in their shopping cart and then leaves the session, they could get an automated message an hour later to their preferred channel, reminding them of the outstanding items and perhaps offering a discount if they complete the order within a certain time limit.
Key Features:
Ease of Use-Freshworks offers too many features to be described as simple to use. However, the platform is intuitive and inviting, and most of the tools are straightforward.
Customisation-Custom dashboards let you cut through the noise and put the information you need front and center. You can drag and drop widgets (AKA dashlets) in the order you prefer or remove them entirely. Data can be visualized in several ways—scorecards, donuts, bar graphs, and more.
Contact Management-Instead of manually entering your contacts, you can import them through a CSV file. Once your contact database is populated with records, you can customize your view. Add and remove columns with just a click, and easily filter data according to your priorities.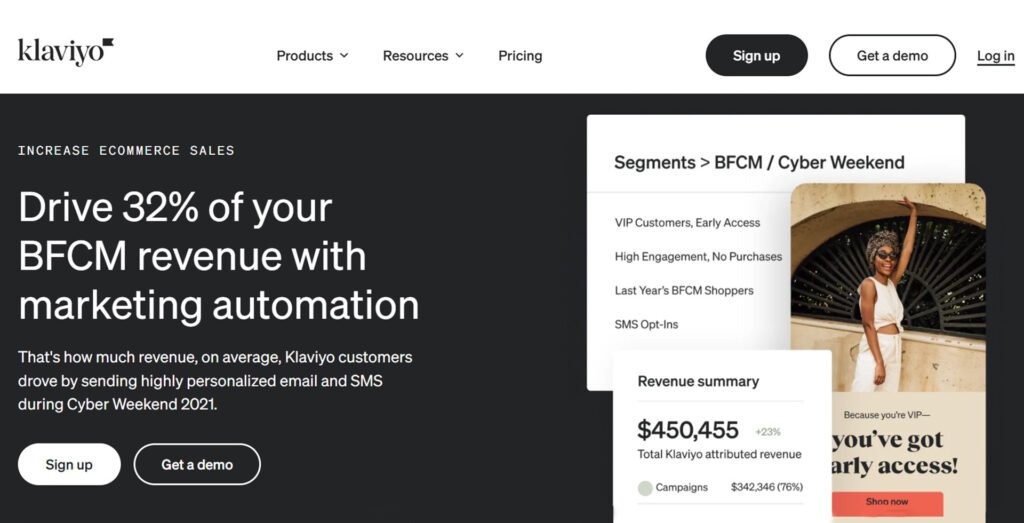 9. Klaviyo
Klaviyo also has robust integration support with Shopify and supports a wide range of systems, including Payment Processors, eCommerce Platforms, Marketing Tools, and so on, allowing Marketers and users to effortlessly combine data from several platforms. It also allows businesses to use its Performance Dashboard to analyze their Marketing Campaigns by tracking indicators like Visitor Activity, Refund Requests, Recently or Often Ordered items, and the amount of income earned by the Campaigns. Klaviyo also allows users to segment their consumers based on previous purchase behaviour.
Klaviyo has a large library of stunning pre-built Email Templates for you to choose from. You can search through hundreds of alternatives to pick the ones that best suit your brand and product line, then modify colours, themes, fonts, and photos with the design editor. It's simple to find the appropriate appearance for your brand with Klaviyo instead of wasting time creating a template from scratch.
Lead Scoring and Grading- It can automatically qualify and score leads based on demographics as well as prospect online behaviors, including recency and frequency. Assign your own weights to determine lead scores for prioritization.
Lead Nurturing- It can automate drip marketing campaigns that send relevant messages over time, based on prospect behaviors and pre-defined campaign steps.
Online Behavior Tracking- It can track which emails a prospect opens and clicks, what web-pages they visit, what keywords they use, even what they say on social networks.
Final Verdict
So what are the best marketing automation tools for Shopify? As you can see, there is a good range of decent tools to help you run targeted email campaigns to your Shopify customers. Which one you should use depends on what's most important to you. It comes down to personal preference, size of your email list, ecommerce business goals, and your budget.
If you want to be able to run complex automated campaigns triggered by customer actions (multi-step abandoned cart emails, recommended products, etc), your best bet will be a tool like Omnisend, ActiveCampaign etc.
If affordability or ease of use are your main priorities, then tools like Mailchimp and Sendinblue can help you run some relatively simple yet effective campaigns.
One thing's for sure – there's a lot to gain with setting up email marketing for your Shopify store, with a lifetime of loyal customers being top of the list. If you haven't already done so, now's the time to start evaluating the best  marketing automation tools for Shopify to help you do that.
Ready to work smarter, not harder? Try Zavops today.
Related Articles
---