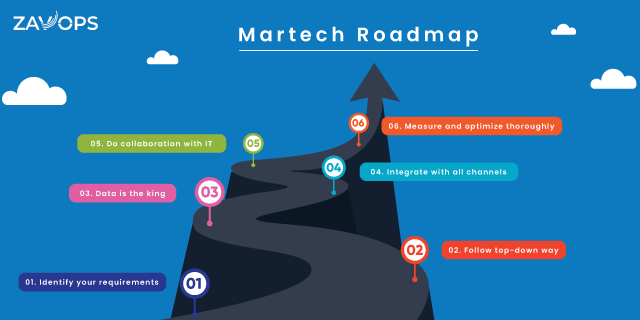 6 Essentials to consider while building a Martech implementation Strategies
As per a recent research, 68% of martech leaders face challenges utilizing their stacks' full breadth of capabilities. Do you feel you're one of those marketers?
Well, you're not the only potato in the bucket!
No doubt the pandemic renewed the focus on expanding the utilization and use of the marketing technology stack, but marketers are still struggling to take full advantage of their Martech Implementation Strategies
Martech Stack Capabilities
To them, it can feel like there's a never ending list of things that should be done to improve their business' bottom line, and to some degree there's truth to that. In facing the reality of nearly limitless strategy and tactical possibilities, it is highly crucial in the current scenario to build an effective Martech Implementation Strategies
But only building the stack isn't enough! You must know how to and leverage that too.
No clue how to do that? No worries! We're here to help you out.
Today, in this blog, we'll address what a martech stack is in addition to some critical key strategies and components one should include when building an effective marketing stack.
Also, we'll touch points like how to build a MarTech stack and how to build a Martech Implementation Strategies that modernizes your marketing processes, provides value for money, and helps grow your business?
This guide will take you through everything you need to know.
So without further ado, let's get started!
What is a Martech Stack?
A Martech Stack is essentially a cluster of technology-based tools that digital marketers use to efficiently perform marketing activities, across various digital channels. Martech stacks often vary from business to business depending on both the size of the business and their priorities. You can know more about Martech in a detailed way in one of our blogs.
If you use a martech tool, chances are that you use more than one. The name for the ecosystem of all of your martech tools is a martech stack or marketing technology stack. Marketing technology stack generally refers to the "stacking" of different marketing technology tools that are more or less connected to each other and can be used by a business.
Marketers use it to perform, analyze, and improve their services. Martech stacks are increasingly more prevalent and relevant to the way businesses work. In fact, the overall average is 88 solutions per stack, having grown 22% over the past four years.
Why do you need a MarTech stack?
Manually handling everything a modern marketing department needs to do is simply too time-consuming and inefficient to be practical. By automating certain digital tasks, you optimize your processes, integrate performance-boosting elements to your campaigns, and free up your team's time to concentrate on developing more strategic initiatives.
Beyond boosting efficiency, MarTech stacks can enable better decision-making. With the sheer amount of information available to today's marketing teams, you need tools that swiftly transform masses of data into actionable insights. Martech Implementation Strategies helps you make smarter, data-driven choices by collecting and analyzing the numbers for you.
By selecting the right tools your team will be better positioned to create, deliver, monitor, and refine its marketing campaigns. With a carefully chosen MarTech stack, your team can generate more leads, drive more traffic, increase engagement, and boost conversions.
What are the core tools of MarTech Stack?
A MarTech Stack typically consists of a few core tools, although the specific tools used can vary from company to company. Some companies have complex MarTech Stacks, while others rely on the essentials. A complete MarTech Stack should address every stage of the marketing cycle: attracting, engaging, converting, managing, and understanding your target customer. Some of the most common tools and technologies in the MarTech Stack include:
1.Digital Asset Management – This solution is widely considered the heart of the MarTech Stack. It's where your content is aggregated and managed. As content is the driving force behind marketing, having a single, centralized resource for managing a large volume of digital assets is the key to marketing efficiency and effectiveness.
2.Analytics Tools – You can't improve what you can't measure, and that's why today's enterprises rely on analytics solutions more than ever before. The competitive landscape is tough in many industries, forcing marketers to constantly step up their game to outpace the competition. Analytics tools provide a quantifiable means of measuring the effectiveness of marketing messaging, campaigns, channels, and more.
3. Lead Management – Lead management tools help marketers engage, nurture, and qualify potential leads to determine sales-readiness.
4. Customer Relationship Management – These tools help companies keep track of their customer base, providing a central resource for sales and customer relationship team members who need to interact with customers and prospects. Email marketing may be a built-in technology or procured as a separate service, but seamless integration is essential between a CRM and email marketing solution.
5. Marketing Automation – Another technology often integrated with email marketing and CRM, marketing automation tools can streamline the process of nurturing leads by initiating specified actions based on consumer behavior.
6. Content Management System – These solutions allow marketers to manage a company's web presence, including primary websites, blogs, landing pages, and more.
7. Social Media Management – Social media management tools simplify the process of managing and engaging users across the many social media platforms today's consumers use.
These are just a few of the common technologies that exist in most modern MarTech Stacks. With thousands of tools and technologies in the MarTech landscape, it's quite possible that no two companies' MarTech Stacks are alike.
What are the top things to consider while building a Martech implementation strategies?
Here are some best practices for developing a winning martech strategy:
Identify your requirements – While this part may sound obvious, it's easy to rush over the fundamentals and end up with a MarTech stack that fails to meet your requirements – or one that is hugely overblown. In fact, research from Gartner found that just one in three organizations believe their MarTech stacks effectively meet their business needs. And with the average CMO spending 29% of their budget on MarTech tools it's business-critical to get the basics right, or you risk wasting time, money, and resources on inadequate tools. A good way to avoid purchasing irrelevant or unnecessary technologies is by asking which problem areas your MarTech stack needs to address.
Follow top-down way – Build a martech stack in a top-down manner, starting with the company's overall marketing strategy and goals. By thinking in broad terms of high-level objectives, you will reach better decisions on what specific capabilities and measurements you need to support.
Data is the king – Carefully consider all existing data sources that should be integrated to achieve your martech goals, and ensure that the solutions you select can work with those sources. Having a complete customer profile, based on all available data, is critical.
Integrate with all channels – Carefully consider all the marketing and communication channels that you need now – as well as those you expect to use in the foreseeable future. Only through effective coordination among all channels – email, SMS, on-site/in-app, online advertising, social media, call center, etc. – will your martech stack enable you to optimize the overall customer experience. No more silos!
Do collaboration with IT – Work closely with IT during the definition, selection and implementation stages. While the goal of most martech solutions is to free marketers from extensive reliance on IT, the participation and buy-in of the IT department is almost always necessary for building (and maintaining) a productive martech stack.
Need help building your MarTech Stack?
No matter how your team works or what your company's technology stack looks like, our customised solutions will always be there to make your workflow smooth and hassle-free. Book a time to talk to us to understand how Zavops tools can help you take the next step in your digital journey.
Related Articles
---