5 Proven Methods to Generate Leads Using Marketing Automation
Let's imagine that you jump on a meeting with someone you think is a potential customer. After investing your precious fifteen minutes into the call, you find out that the prospect is looking for something else and not a good fit for your product or service.
Super frustrating? Right. Same page? Of course.
When working in sales, situations like this often happen due to poor lead generation and nurturing practices.
Instead of such drastic failures, our lead generation efforts are never over. No matter how much work we put into it, we'll always want more leads next month.
If you're disappointed as all this happens to you, let me tell you-you're not alone!
Some stats show that 53% of all B2B marketers spend more than half of their budget on lead generation using marketing automation.
Instead of so much effort, lead generation can feel like a Herculean task.
You find that your pipeline is full of sales qualified leads on Monday if you're lucky enough. And by Friday, you're already thinking about how you can add more relevant leads, as half decided not to purchase, and the other half need more time and if someone purchases by chance, they have their own tantrums.
Pondering over what exactly is the problem? Let's shed some light on it!
What's the issue with lead generation?
Most of the time, the problem can be attributed to a misalignment between the sales and marketing departments.
The lack of clear processes and guidelines leads to annoying consequences for both the employee and the business, such as:
Lack of a proper handoff: Leads get left behind, buried in your CRM
Flawed targeting: Requirements were not set properly, leads are not qualified
Poor messaging: Expectations are off, leads have been promised too much
Lack of planning: Not enough leads, or too many leads coming in at once
These issues affect every organization at one point or another. But they can be alleviated with 5 proven methods to generate leads using marketing automation
Implementing automation in the lead generation process will not only reduce mishaps but also produce visible gains in the short term.
But hold on! Do you even know what lead generation is?
Wondering how to generate leads?
Although you might not use the term 'lead generation,' this task is a vital part of every salesperson's job.
Lead generation is the process of finding, identifying and attracting potential customers into your sales pipeline so that you can engage them, tell them about your products and services and move them through the funnel.
You can generate leads online in multiple ways and on many different channels. More often than not, however, it won't mean anything unless you can leverage that awareness into attention.
What's your way of lead generation?
If your answer is going to be buying leads, then we suggest that you cancel all your plans because this is going to be a long discussion. Leads that are bought or lured are hollow and give you nothing but empty promises. Those who don't know what buying leads is, let me explain: Buying Lead is a purchase request posted by a buyer on a classified site or a trade portal. Essentially, it is an invitation to suppliers to send their quotes regarding a certain product or product range. But these kinds of leads aren't quality leads.
And as you know, quality leads are important for increasing conversion rates, but higher conversions are only possible if you can also generate leads through an effective and efficient manner using advanced capabilities of marketing automation.
It's about making your efforts compound into tangible results. You'll be able to source more leads with less effort.
If that sounds like what your business needs, this blog is truly for you. But before we talk about efforts and strategies, let's have a look at what marketing automation is!
What is Marketing Automation?
The process of lead generation is a tough one yet is necessary so that you do not waste further time on customers who do not care about your product or service and who will never become potential opportunities.
The process may look tedious initially but reaps immense profits in the long run by converting these leads into your loyal customers. To avoid excess manual interference and reduce costs, businesses use SaaS-based tool that automates the process of multi-channel communications.
It is your gateway to effectively managing marketing campaigns without endless manual work and updates. However, it's not just about streamlining operations. According to research:
91% of marketing automation users confirm it is important for the overall success of the marketing campaigns.
4 in 5 marketing automation software users were able to increase leads.
Although investing in marketing automation software allows companies to generate more leads, 25% still do not automate marketing tasks as per a recent report.
If you want to dive into marketing automation but aren't sure where to start, let's explore
The 5 Proven Methods to Generate Leads Using Marketing Automation
Let's dive in!
1.Retargeting
Retargeting involves reaching out to customers with the same product or service that caught their attention and reminding them of its amazing qualities or features that they are likely to miss out on if they don't make the purchase. It is a strategic move that makes use of specific customer information gathered over time, related to their behaviour and purchase patterns. It is in fact another form of personalization in application.
Retargeting emails, messages, pop-ups, and notifications can be set up to be sent out on the performance of certain trigger actions, such as when the customer downloads a case study on your website, or tries to book a call with your sales team but doesn't complete the form or a customer abandoning cart checkout process mid-way.
2. Sync contact data for better personalization
Successful marketing automation enables you to use the data at your fingertips to deliver customer experiences at the right time, without having to lift a finger. You can compile and leverage all of your marketing data by syncing the contact data in your apps two ways.
To enrich the data you have in every app and multiply your options for personalization, it starts with collecting and storing helpful data about your contacts, such as via lead generation forms.
You can then sync the most up-to-date contact data across your marketing stack.
For instance; the contacts in Pipedrive CRM with the label "Client" can be synced two ways with Mailchimp with the tag "Clients & Referral Partners."
This makes it super simple to send the right communications and personalize messaging for customers in Mailchimp.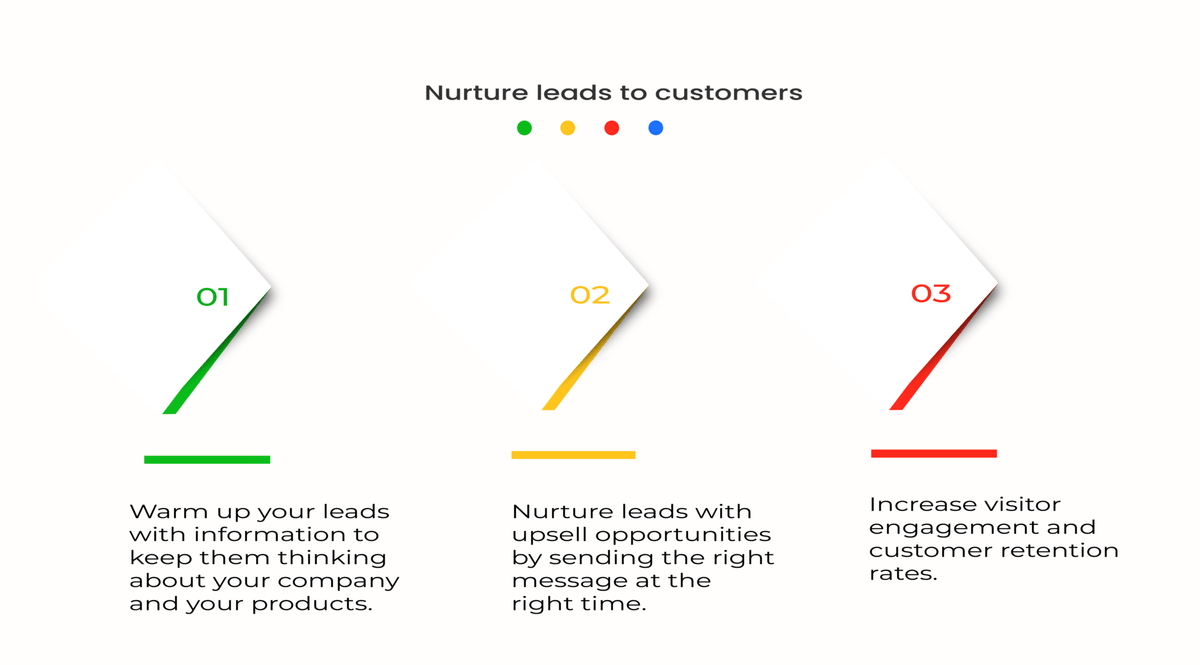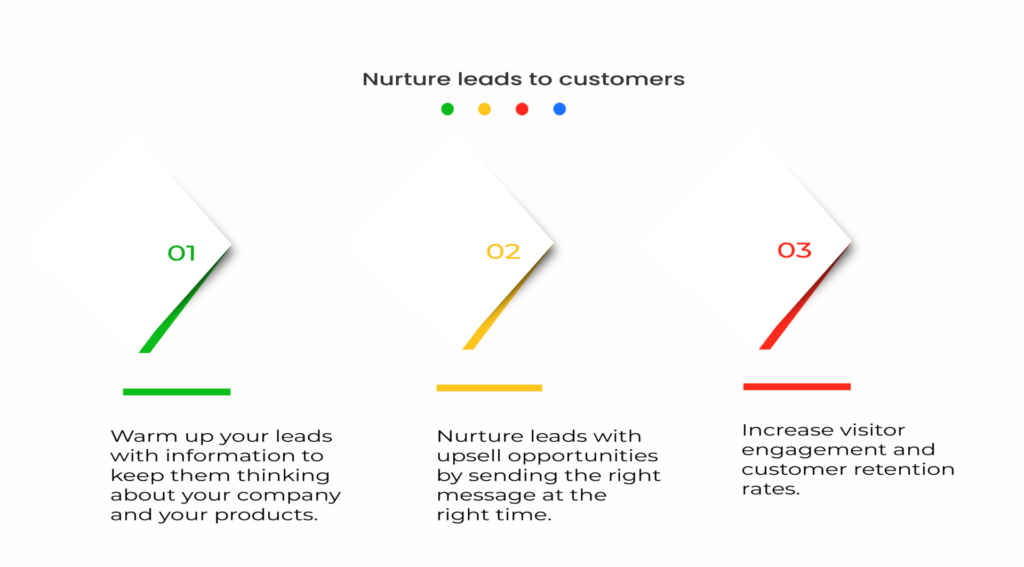 3. Nurture leads to customers
To benefit from marketing automation, you need to do more than just generate leads – you also need to know how to nurture them.
Conditioning and nurturing leads is probably the most beneficial feature of marketing automation. It can:
Warm up your leads with information to keep them thinking about your company and your products.
Nurture leads with upsell opportunities by sending the right message at the right time.
Increase visitor engagement and customer retention rates.
Marketing automation also helps to re-engage passive customers with timely information that's super personalized.
4. Improve Post-Click Experience
An effective way to connect with the user is by personalizing landing pages based on the ads. For example, if you have created multiple ads that target different audiences, you should also create landing pages where the content is relevant to the ad in which the user engages.
While mapping ads with landing pages can be done manually, it does not scale. Imagine you are running around thirty to forty iterations of display ads for different products and services. Manually creating so many landing pages would be insane.
With the right marketing automation software, custom landing pages relevant to the ads can be generated dynamically based on keywords or tags. Reports show that PPC campaigns matched with relevant landing page content can lower acquisition costs and generate more leads.
5. Chatbots
A number of leading marketing automation software offer chatbot-building software or features as a part of their package. Unfortunately, many businesses fail to exploit chatbots for lead generation and tend to use them for customer service only.
Chatbots can be used effectively to understand the audience and preferences in an automatic fashion. You can configure chatbots, many of which can be easily integrated into your marketing automation software. You can then create interesting surveys and quizzes that can help you gauge the preferences of your prospects. 
Bottom line
Setting up the above-mentioned strategies to work accurately will allow lead generation and engagement to work on autopilot for you. However, you must make sure to augment these strategies with the right messages and thoughtfully created campaigns.
Don't know how to proceed? Don't worry! We can help. We make use of efficient automation technologies to design and craft appropriate solutions that will give your customers the much-needed push to turn into customers. Get in touch with us now!
Related Articles
---