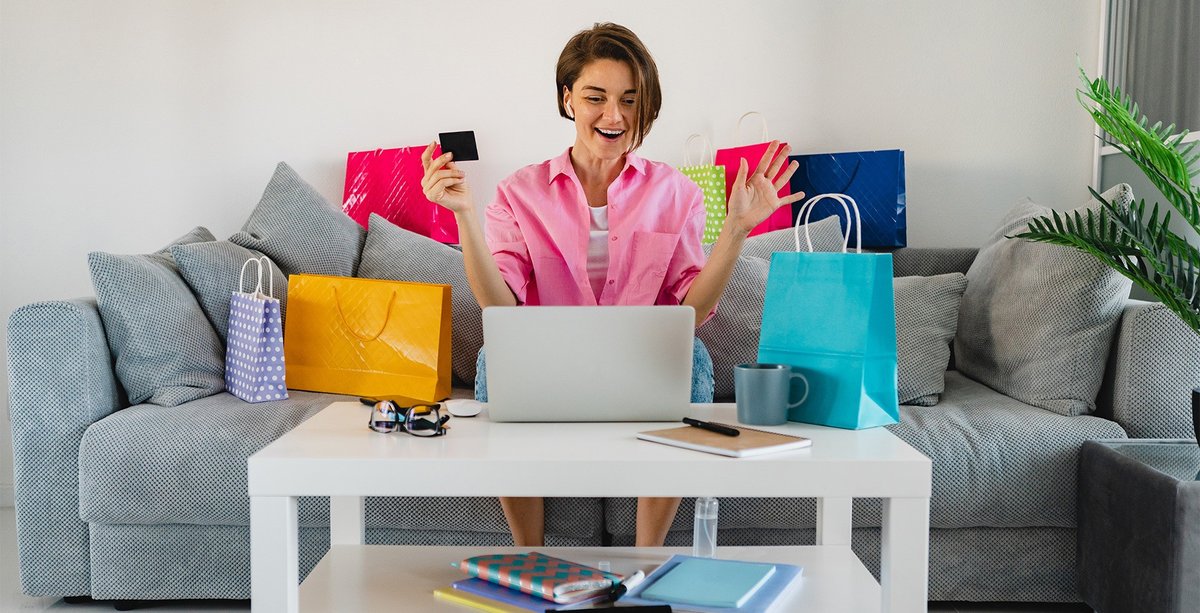 10 Marketing Automation Platforms for Ecommerce
Introduction
Starting an eCommerce business, adding a marketing automation system to your arsenal is a no-brainer. Not only do these platforms save you time and stress, they're also an easy way to boost your ROI by streamlining customer retention and elevating your inbound marketing strategies.
Marketing automation allows eCommerce or D2C (digital to consumer) brands to streamline, automate, and gauge marketing workflows and tasks, so that they can enhance operational and functional efficiency and enlarge revenue faster.
But, with such a fast-growing list of eCommerce marketing automation platforms available, how do you decide which one is best for your business?
With variety comes the need to identify what suits one's requirements. The variety of marketing tools available can make it even trickier for you to make a choice. But, the decision won't be difficult to make if you know well what your business needs are.
With that being said, here are top 10 marketing automation tools for your ecommerce or D2Cbusiness.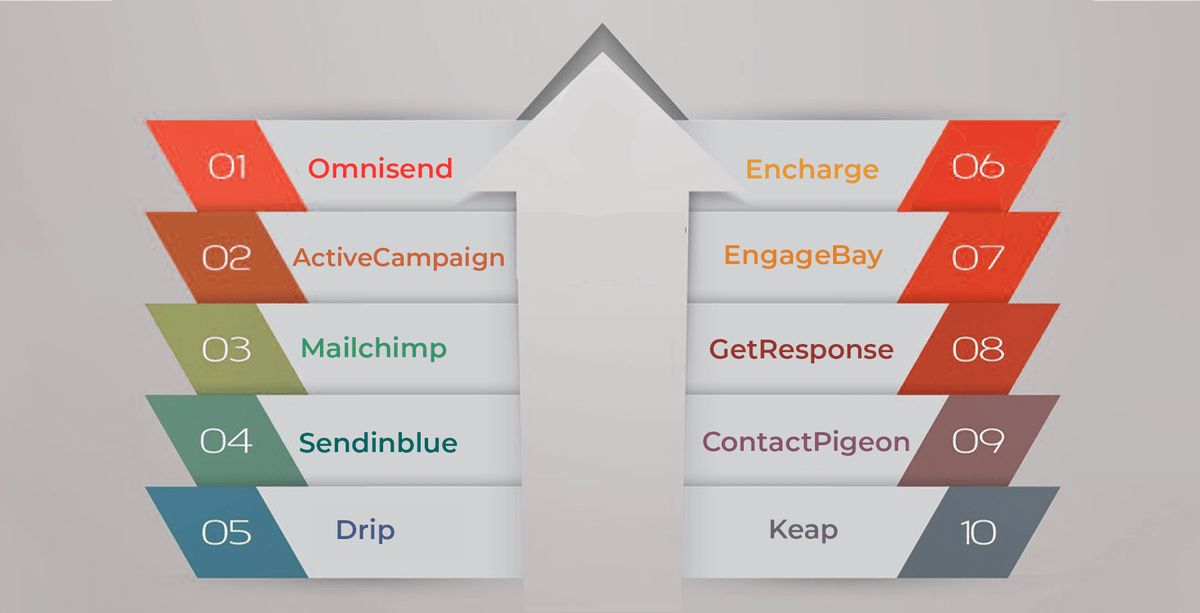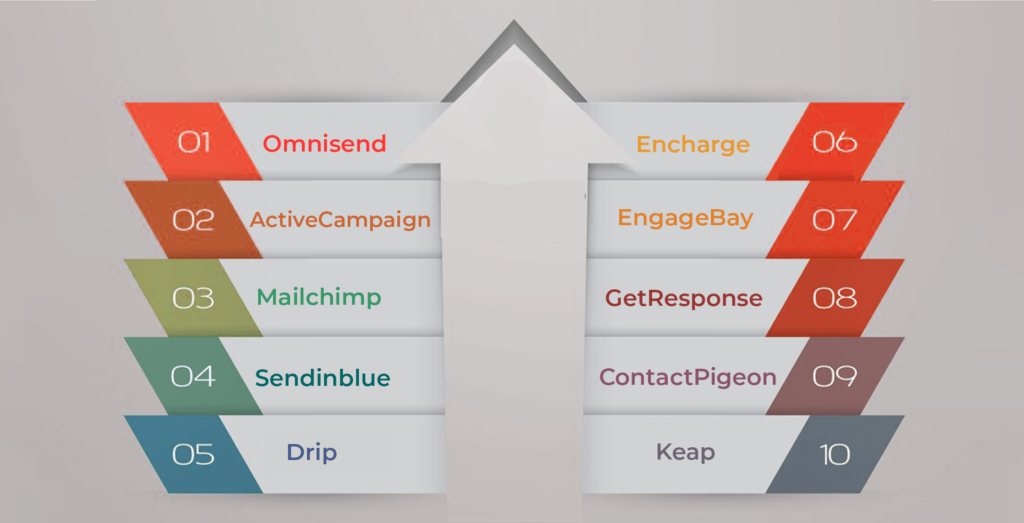 Top 10 Marketing Automation Platforms for your Ecommerce or D2Cbusiness.
1. Omnisend
Omnisend is an ecommerce marketing automation tool specifically for Email and SMS, designed specifically to assist small businesses and grow without adding to their workload.
One-click ecommerce stack connectors, pre-built workflows, and straightforward drag-and-drop editing make it simple to get up and running without having to delve into the weeds. Another stand out feature is their inbuilt Customer segmentation models that help you craft best in class customer retention campaigns.
Omnisend allows you to create beautiful emails with a visual drag and drop campaign builder that, unlike other email marketing software, is 100% HTML customizable.
While Omnisend is highly cost effective, it doesn't offer the same level of robust integrations which a more expensive counterpart would offer. All in all it is an excellent option for any startup business that is looking for marketing workflow automation capabilities at an excellent price point.
Features:-
Stand out features
Email Integration
Channel Management
Surveys & Feedback
A/B Testing
Activity Tracking
Campaign Management
Subscriber Management
Customer Segmentation
Automated Workflows
Pricing:- Omnisend price starts at $16 per month, which is much lower than the average cost of an email sending platform (ESP). It also has free plans for small businesses.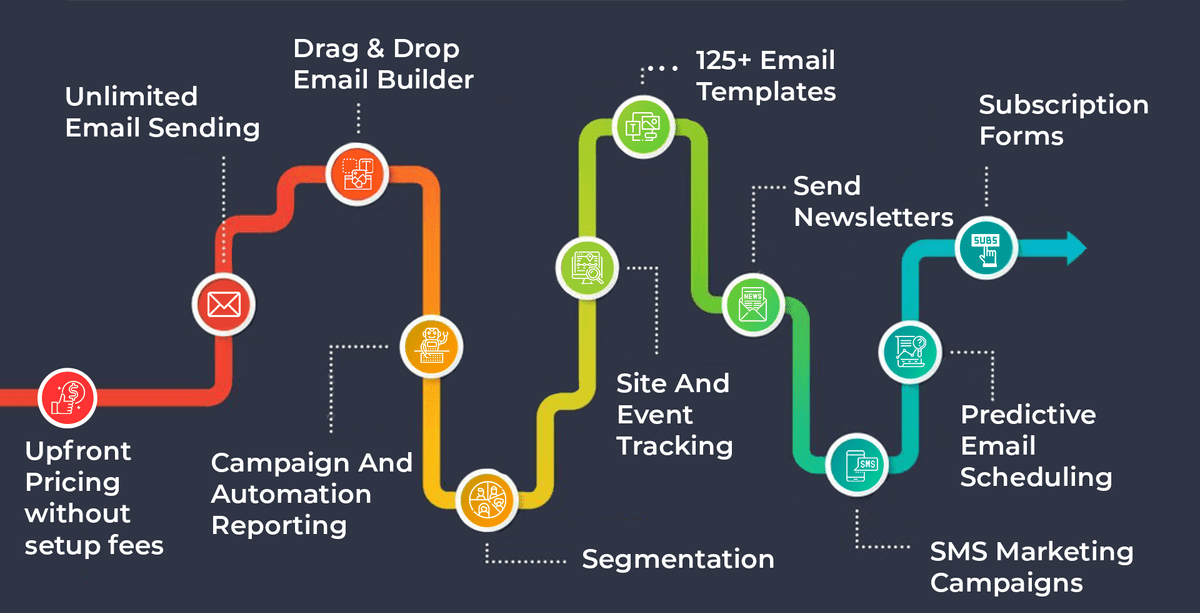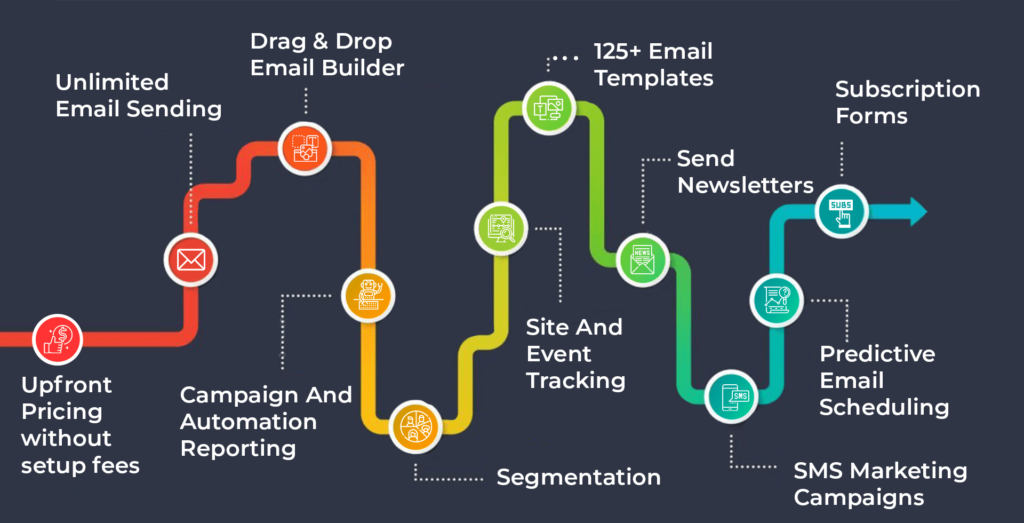 2. ActiveCampaign
ActiveCampaign combines various aspects of small business marketing into an integrated and user-friendly platform. With the phenomenal drag-and-drop interface, you can send beautiful newsletters, build and design email campaigns to engage their audience, thereby converting more contacts into customers for your ecommerce through this marketing automation.
One of the best features is ActiveCampaign's deal pipelines that are based on the agile framework. To use this feature successfully, you will have to break down your sales cycle into steps which will give you a better visual picture of where each deal lands in the cycle and how close or far they are from completion.
Features:-
Unlimited Email Sending
Drag & Drop Email Builder
125+ Email Templates
Send Newsletters
Subscription Forms
Segmentation
Site and Event Tracking
Campaign and Automation Reporting
Predictive email scheduling
SMS marketing campaigns
Upfront pricing without setup fees
Pricing:- ActiveCampaign (which begins at $9 per month) also offers a relatively short, 14-day free trial, when most competitors offer at least 30 days. ActiveCampaign has a large library of online support resources and onboarding services, and you can receive help via live chat, but not by phone
3. Mailchimp
Mailchimp is the solution for email marketing. It supports your small business and startup company in customer relations and has an intuitive & user-friendly interface. It's one of the best marketing automation tools for ecommerce.
With Mailchimp you can create different possible types of marketing emails, set up automated messages, ads or postcards, create targeted advertising campaigns, set up ads for Facebook or Instagram, build small websites & landing pages, create surveys, share & track posts on social media, create a signup form and even send postcards to your customers. The software is web-based and has a mobile app for Android and iOS devices. With the analysis options you can get to know your customers better and analyze the key figures of your marketing campaigns.
No doubt Mailchimp is all in one marketing automation software for ecommerce but because of the limitations Mailchimp puts on the number of lists you can create, you'll need to be very organized in how you manage your contacts. The same goes for sending out your emails on the free plan, as there is no scheduling option.
Features:-
MailChimp VIPs
SMS for Events
Geolocation
Segmentation and Groups
Multi-User Accounts
A/B Testing
Delivery by Time Zone
Spam Filter Diagnostics
Email Beamer
Subscriber Profiles
Email Templates
Pricing:- Mailchimp pricing plans offer a variety of options for different email marketing needs.
Mailchimp offers a free plan, with which you can send up to 10,000 emails a month to 2,000 subscribers.
For instance, you can shop for a plan based on these factors: budget, list size, frequency of sends, design options, time zone adjustability, transactional messaging capabilities, level of customer support, data analytics, and team access.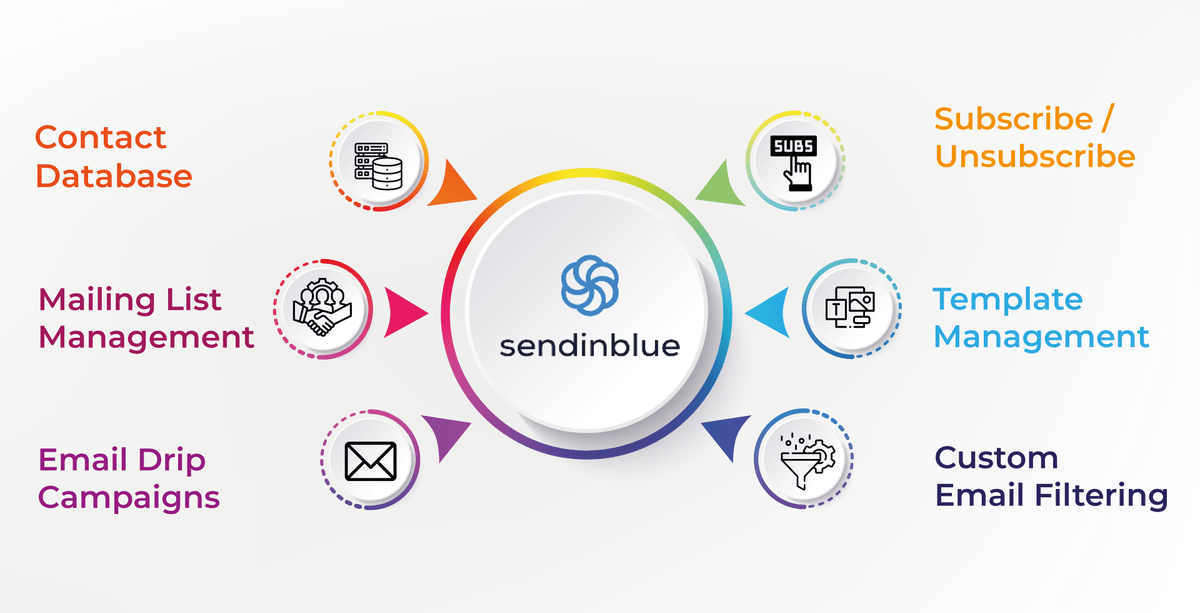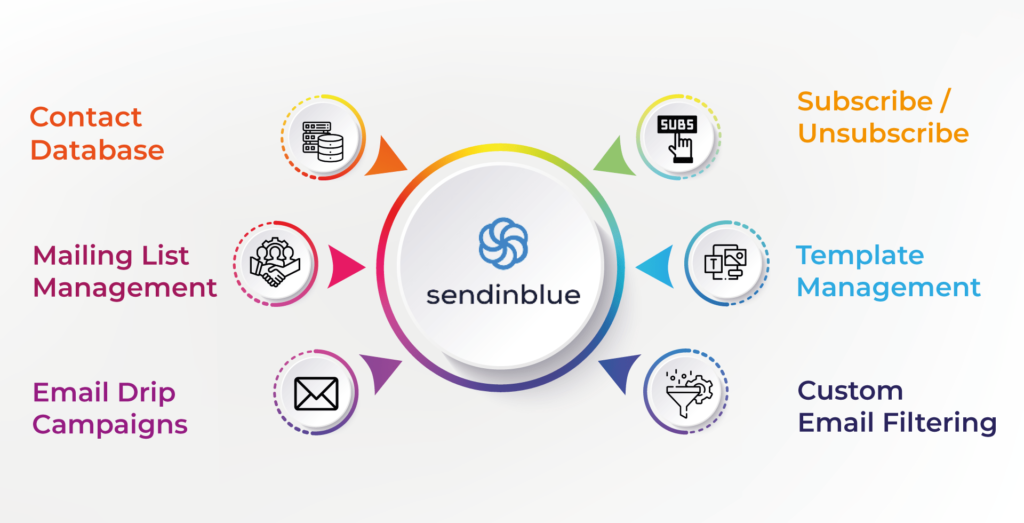 4. Sendinblue
Sendinblue is a marketing solution that helps you build and grow small business and relationships with your customers through email campaigns, transactional emails, and SMS messaging. The software helps you design targeted email marketing campaigns that you can schedule and send to your audience at the right time. Sendinblue also offers SMS marketing to communicate directly with customers for urgent messages and time-sensitive offers: that's the USP of this tool. You can also use Sendinblue to segment your email list and automatically send personalized emails to your customers.
Features:-
Contact Database
Mailing list management
Email Drip Campaigns
Subscribe / Unsubscribe
Template Management
Custom Email Filtering
Pricing:-
Sendinblue pricing is based on the number of email messages sent, rather than the number of contacts you keep in your account. Try Sendinblue with a free account and send up to 9,000 emails per month (300 emails per day). As your business grows, you can upgrade to a plan that meets your needs without breaking the bank. Send up to 20,000 emails per month for just $25 or send even more emails at great prices.
5. Drip
Drip is a popular ecommerce automation platform for small businesses and startups. And it features a very strong email marketing tool with elements to build drip campaigns, create attractive newsletters, automate workflows, and gauge analytics. It offers all the necessary features in a robust platform that lets you take advantage of enterprise-level advanced capabilities at a much lesser cost which makes it the perfect choice for small businesses.
Features:-
Email Marketing
Pre-built Workflows
Meaningful Segmentation
Revenue & Engagement Reporting
Integration
A/B Testing
Optimization
It's effective for ecommerce but takes a lot of time depending on how sophisticated your campaign is and how experienced you are in configuring email marketing automation processes.
Pricing:-
Drip price starts at 'no price and it comes with multiple pricing plans and caters to a diverse customer base. The price may vary based on factors like customization, additional features required, number of users, and the deployment type.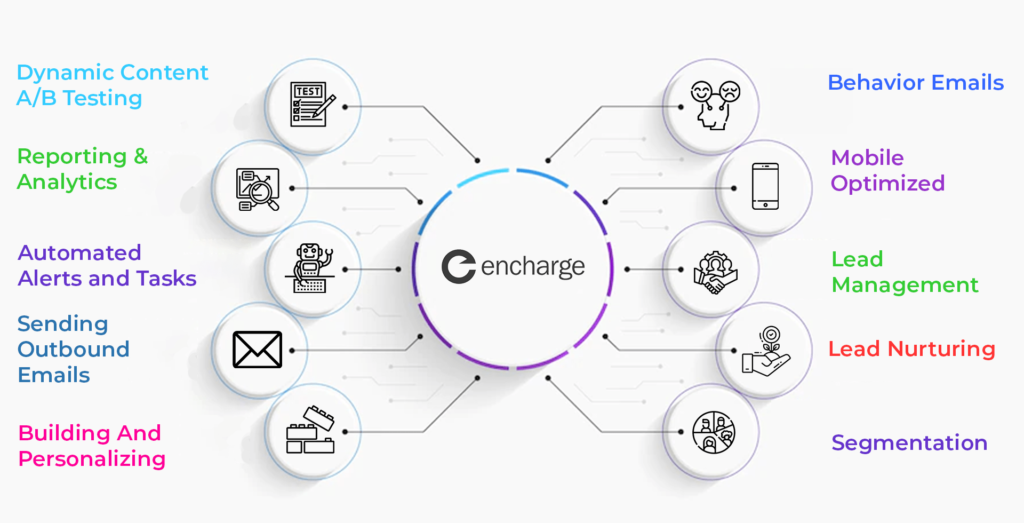 6. Encharge
Encharge is a cloud-based marketing automation platform that is specifically designed for startups and digital businesses. It is an excellent alternative to other ecommerce marketing automation tools that do not have all the features. Encharge helps small businesses and startups to grow their revenue by sending behavior-based emails and automating repetitive tasks across the whole customer journey.
Features:-
Building and Personalizing
Sending Outbound Emails
Manage Email Deliverability
Automated Email Responses
Dynamic Content A/B Testing
Behavior Emails
Mobile Optimized
Lead Management
Marketing Lead Database
Data Quality Management
Segmentation
Lead Scoring and Grading
Lead Nurturing
Online Behavior Tracking
Automated Alerts and Tasks
Reporting & Analytics
Basic Reporting
Pricing:-
The pricing for Encharge starts at $49.0 . It also offers a free trial. Encharge has 2 different plans:
Growth at $49.00
Premium at $59.00
7. EngageBay
EngageBay is a simple, powerful, all-in-one marketing, sales and service ecommerce marketing automation software with free CRM for startups and growing businesses. EngageBay helps you automate your marketing, sales and support by combining lead generation, email marketing, marketing automation, CRM & social media engagement, helpdesk, and ticketing. An integrated system brings all concerned in one place and makes coordination tighter and collaboration easier. EngageBay offers such a solution.
Features:-
Email Integration
Lead Generation
Referral Tracking
Social Media Integration
Workflow Management
Forecasting
Lead Scoring
Web Forms
Search Marketing
Landing Pages
Interaction tracking
Sales pipeline management
Reporting/Analytics
Segmentation
Calendar/Reminder System
Pricing:-
You can transition to a paid plan at just $8.99/month which is good for up to 15,000 contacts and 10,000 branded emails. With this Basic plan, you also get email templates, web pop-ups, landing page builder, lead scoring, and more. Meanwhile, the Growth plan at $29.99/month sets you up for up to 50,000 contacts. The premium Pro plan at $47.99/month gives you unlimited contacts.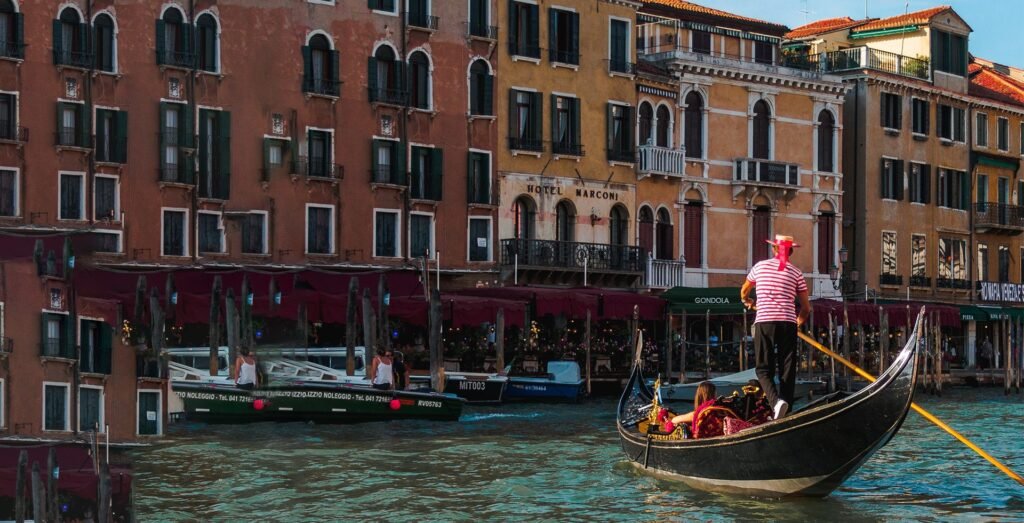 8. GetResponse
GetResponse Marketing Automation is designed to build marketing automation workflows based on customers' data and behavior. It's perfect to deliver personalized marketing experiences, engage customers, and increase sales in the process.
GetResponse's automation features are easy to use and competitive with similarly-priced solutions. Also, it offers several marketing tools beyond email such as webinar and sales funnel software. However, GetResponse's A/B testing tools are limited, and only allow you to test different subject lines.
Features:-
Auto Responder
Email Templates
Conversion Funnels
Web Push Notifications
Email Intelligence
Autoresponders
Responsive Email Design
Analytics
Customer Support
Landing Pages
List Booster
Webinars
A/B Testing
Inbox Preview
Missing Features
Pricing:-
GetResponse pricing is available in the following plans:
Free trial is available.
Email – $15/month
Pro – $49/month
Max $165/month
Enterprise – $1,199/month
As you add more subscribers to your list, your costs increase. At the top end of the scale, you can expect to pay $539, $599 or $699 per month to use GetResponse with a list containing 100,000 subscribers on the 'Email Marketing,' 'Marketing Automation' and 'Ecommerce Marketing' plans respectively.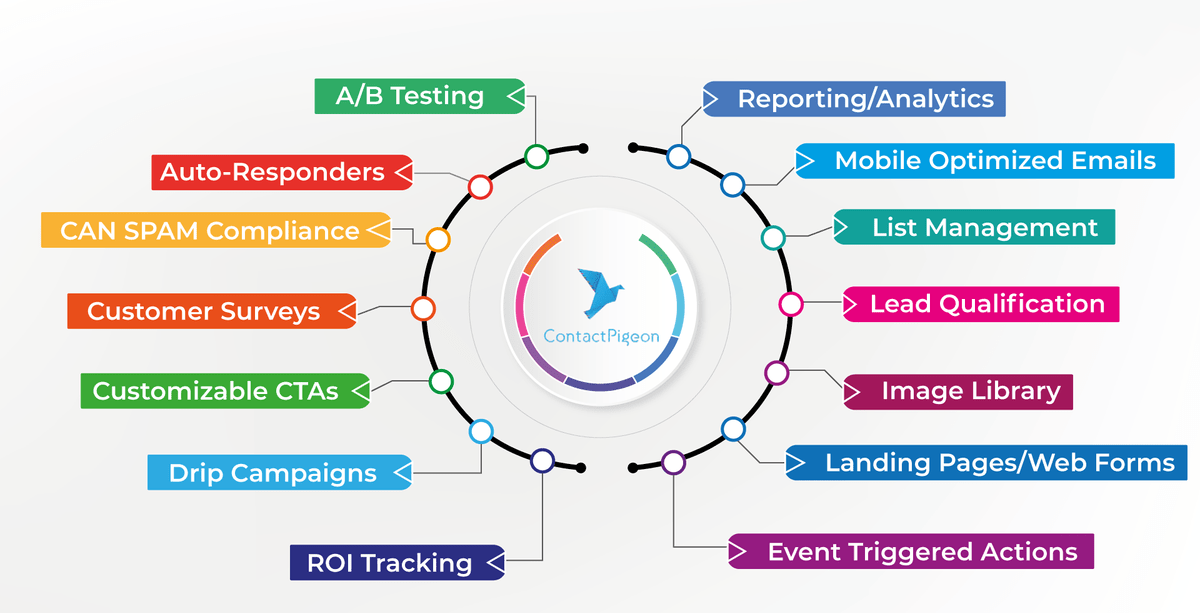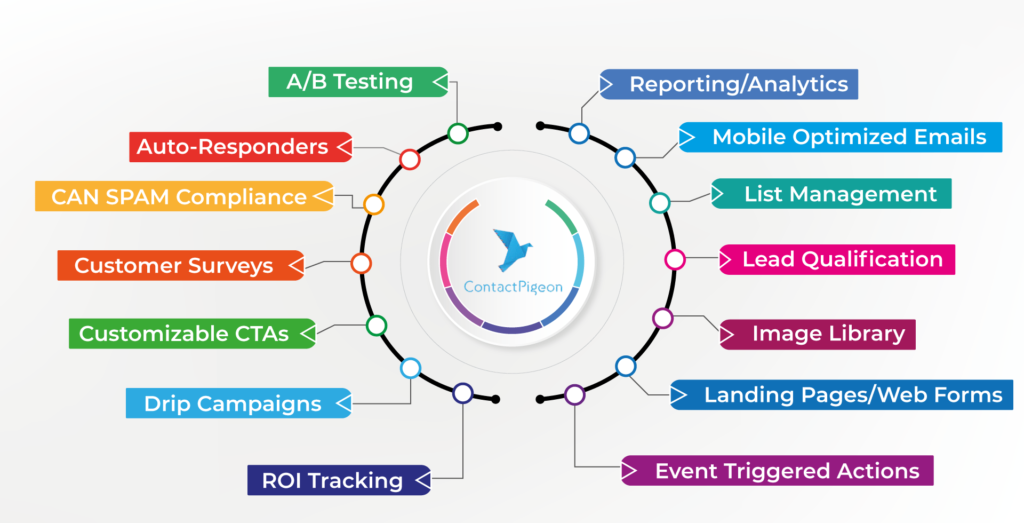 9. ContactPigeon
ContactPigeon is an excellent omnichannel marketing automation platform that gives a solution to every retailer's problem: How to send the right message, at the right time, with the right content to each visitor. It enables one-person-shops and enterprise retailers alike to benefit from the use of a Big Data platform, in order to easily create data-driven Automations and Personalized Campaigns that react to customer/visitor behaviors and catalog changes in seconds.
ContactPigeon combines historical and real-time user web behavioral data to help engage, nurture and convert your website visitors. By personalizing each interaction in a more scalable way, we enable marketers to"unlock" more revenues from your web traffic. Set up and on-boarding is quick and easy with ContactPigeon with ready-to-use plugins, built-in best practice automation recipes, and our dedicated account consultants.
Like any other marketing automation platform for ecommerce, it also has a drawback that it has limited integration options with other platforms for reporting.
Features:-
A/B Testing
Auto-Responders
CAN SPAM Compliance
Customer Surveys
Customizable CTAs
Drip Campaigns
Dynamic Content
Event Triggered Actions
Image Library
Landing Pages/Web Forms
Lead Qualification
List Management
Mobile Optimized Emails
Reporting/Analytics
ROI Tracking
Pricing:-
Its pricing starts at $165 per month. It also allows free trials for small businesses. There's a 14-day free trial for Shopify or BigCommerce users.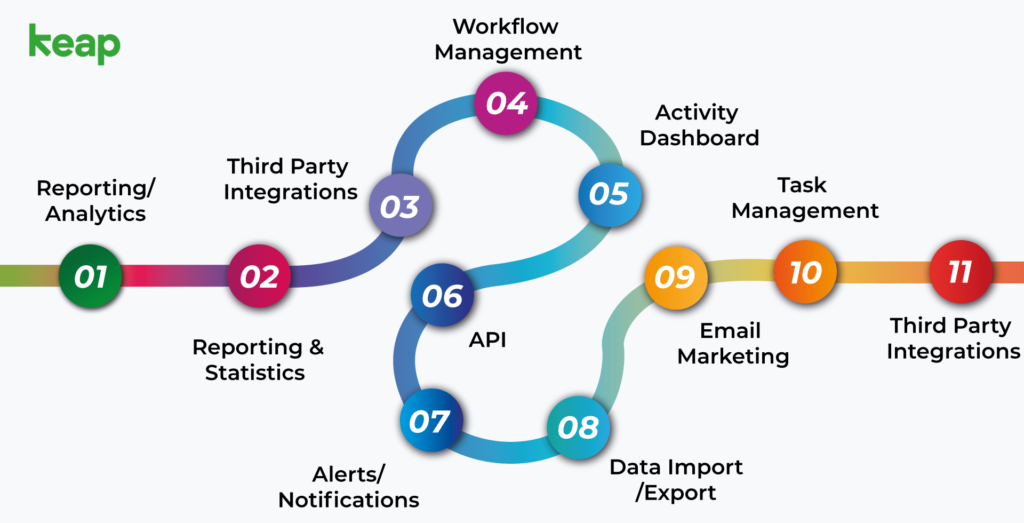 10. Keap
Keap integrates with more than 2,500 platforms and tools. No other CRM provider we reviewed connects with as many apps that help businesses operate efficiently. Keap's marketplace includes partner-level, certified and third-party integrations for email, lead generation, specialty apps, pre-built campaigns and much more.
Basically, Keap is used for customer relationship management, marketing and sales. In other words, this is a CRM system which helps you generate new contacts and leads and makes it more streamlined to nurture leads down the sales pipeline. It gives marketers and sales reps many useful workflow automations to take over the easier repetitive tasks and activities so that people can spend more time on high-level things like building marketing campaigns and fostering better relationships with customers.
Features:-
Reporting/Analytics
Reporting & Statistics
Third Party Integrations
API
Activity Dashboard
Alerts/Notifications
Data Import/Export
Email Marketing
Task Management
Third Party Integrations
Workflow Management
Pricing:-
Keap has a unique contact-based pricing structure. There are two core plans, Pro and Max, which start at $129 and $199 per month, respectively, when billed annually. The Pro plan includes two user seats and 1,500 contacts, while the Max plan includes three user seats and 2,500 contacts.
Bottom line
Not every business or marketing team is competent to automate their processes, but when they are, marketing automation platforms for ecommerce may elevate a great marketing strategy to new heights. You can convert marketing analytics into exceptional implementation at scale by understanding your unique needs and selecting the proper solution to meet them, allowing you to spend less time on the ins and outs and more time expanding the business.
At Zavops, we provide the best marketing automation services, which helps you to strengthen the relationship with your customers and also in increasing the growth of the business.
Related Articles
---