Top 5 Marketing Automation Tools For Your ECommerce
How do eCommerce businesses provide an exceptional brand experience through integrated marketing campaigns combined with an ability to maximize outcomes by leveraging data from different marketing channels?
The answer is simple i.e. using specialised marketing automation tools for eCommerce.
In the digital era, everything is shifting to automation. Soon, when you order something online, it can be delivered to you by a robot. It's fast, convenient, and labour-saving!
With increasing customer base comes a set of challenges too such as order management, personalization, conversion, planning and scheduling of campaigns, seamless shopping experience and many more. If you are a marketing team with limited members and resources then automating processes will prove to be a shot in the arm.
So, are you ready to automate your eCommerce business marketing to maximize your success? You don't need a robot in your company. Marketing automation platforms can streamline, simplify, and optimize a wide range of aspects of your eCommerce marketing.
It's not ideal to automate everything but by automating certain marketing tasks you can save a lot of time – allowing you to focus on the bigger picture.
Here in this blog, we'll know about a marketing automation tools for ecommerce that can reshape your marketing, save your time and resources while enhancing your profitability.
ECommerce Marketing Automation In the Present Scenario
eCommerce marketing automation has emerged as a potentially powerful tool for generating quality qualified leads and converting those leads into new acquisitions and repeat customers.
The phenomenal growth in more innovative IoT-enabled devices is a clear indicator of automation in eCommerce marketing. It is making data and processes more relevant and valuable in less time. As the automation platforms evolve, marketers will be able to aggregate multiple micro and macro data points, combined with capability to run, manage and track automated personalized campaigns at scale with ease.
Another significant eCommerce marketing trend you need to know is the better mobile experiences for end consumers. Today more people mainly use smartphones to research and buy products online personalized experiences on handheld devices is critical to ensure sustainable growth and customer loyalty.
eCommerce marketing automation not only increases positive results but provides your marketing team an extra hand to manage your marketing campaigns.
Now let's begin and have a look at some of the popular marketing automation platforms out there in the market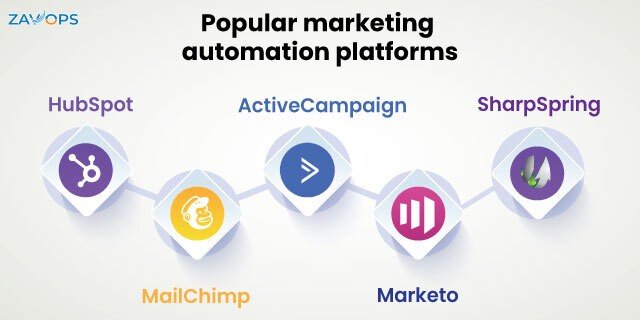 Popular marketing automation tools for ecommerce business
1. HubSpot
HubSpot is a trusted all in one marketing automation tool that lands on every marketer's list. It's powerful in assisting numerous departments in addition to marketing. The tool is a one-stop-shop to store, analyze, and engage customer profiles.
Who Uses: HubSpot is useful for nearly any department, including marketing, sales, customer service, and operations. HubSpot is all-encompassing, intuitive, and smart. One con, however, is that pricing can quickly get expensive if you want to maximize its features and increase the contact base beyond 1,000 people. Hubspot is highly preferred by SME/SMB segment and high growth startups.
Pros
The platform is easy to use
7-day free trial
Educating their users
A place for all your tools
Cons
Requires a 12-month contract
No A/B testing in their basic or PRO package
Very steep price points for incremental contacts
Technical support is paid
Pricing
Hubspot starter bundle starts at $50/month for 1000 contacts. You are allowed 5000 email sends as part of this package which is 5x of your total contacts. For every block of 2000 contacts added to your database, Hubspot increases the monthly fee. Also to note, Hubspot charges a one-time setup fee wherein they help you with onboarding.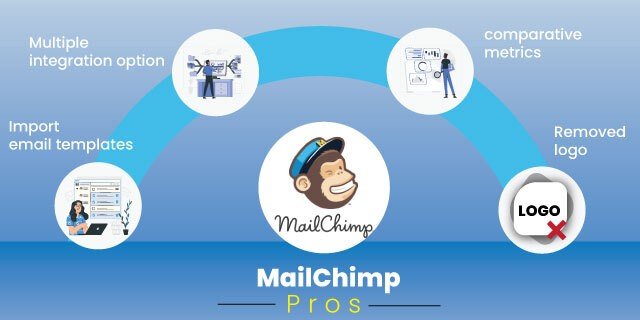 2. MailChimp
MailChimp began as an easy tool to automate your email marketing but has grown into an all-in-one platform that includes numerous ways to connect with customers. Using AI-powered, user-friendly tools, you can use this marketing automation tool to create targeted ad campaigns, send newsletters, understand engagement analytics, and more.
Who Uses: Small businesses love MailChimp, especially those who need to send a high volume of emails to a small- to a medium-sized range of contacts. Customizable features and easy-to-use templates make drafting emails, marketing materials, and more a simple process. MailChimp can handle sending thousands of emails to your base. Cons include limited analytics reporting from social media websites and boosted advertisement features.
Pros
You can import your own email templates.
Multiple integration options with your current online presence.
Access to complete comparative metrics.
Logo can be removed
Cons
Difficult to have a membership-based site
It reserves the right to suspend or cancel your account.
You can create your own templates.
The interface can feel a bit awkward and clunky to some users.
Pricing
MailChimp offers the Free plan for up to 2,000 contacts and 10,000 emails per month (with ads). The Essentials plan starts at $9.99/month for 500 contacts and 500k emails. The Standard plan adds advanced automations, starting at $14.99/month, and Premium gives you all-areas access from $299/month.
3. ActiveCampaign
Used by more than 90,000 small businesses, ActiveCampaign offers a variety of marketing automation tools, including upgrade incentives, predictive content, site messages, and more. The tool claims to go beyond "automating" emails and marketing and instead offers engaging tools for customer experiences. Using machine-learning technology, ActiveCampaign uses smart technology to help you design emails and marketing tools that work.
Who Uses: ActiveCampaign is used by both starters and advanced marketers looking for CRM capabilities and automated marketing. ActiveCampaign is strong in offering smart messaging and taking the guesswork out of delivering quality content through its use of machine learning. Noted cons have been that the on-site chat functions are add-ons and not included in the standard plan and some difficulty to understand the software for marketers who are just starting out.
Pros
It has high delivery rates.
It allows for high levels of customization for content, as well as contact information.
It uses contacts activity and preferences to deliver the right information at the most appropriate time.
It is up to date with the latest needs of its clients. SMS, landing pages, as well as design options are all available.
Cons
The intricately constructed platform itself can be intimidating at first.
Wide variety of uses means it's hard to find the exact features for your business needs.
The main pages of the site are often quite busy.
Limited number of in-built features on non marketing add-ons
Pricing
ActiveCampaign has four plans: Lite (from $15/month), Plus (from $70/month), Professional (from $159/month) and Enterprise (from $279/month). The entry-level plan includes basic features like a template editor and marketing automation. Higher plans add a CRM and lead scoring. There is no setup fee.
4. Marketo
Marketo (part of Adobe) is perhaps the best-known marketing automation tool, and for good reason. It's one of the most mature tools, with a full suite of features that not only help marketers manage email campaigns, but also provide excellent tools for sales teams. Marketo also has a marketplace, called LaunchPoint, with dozens of integrations.
Who uses: Marketo is great for companies who are going to make use of the tool's many features that go beyond basic marketing automation. It's not the most expensive tool, but it's certainly not the cheapest either. If you're not going to use the advanced functionality of the system, you can get similar results with one of the less expensive tools. However, if you want to start with the basics and move into the more advanced functionality in the near future, it could be a good idea to start with a tool like Marketo so that you don't have to switch over all your data and campaigns down the line. We also like that Marketo has a very large and active knowledge base, which is a great resource for new users.
Pros
Easy and intuitive to use
Great Salesforce integration
Quick and easy to set up
Robust security features
Comprehensive account based marketing tools
Great customer support & community
Cons
Poor landing page & form builder
Lack of well designed templates in marketplace
Complex usage and requires technical competency
Reports & analytics
Steep jumps in pricing
Pricing
Marketo offers four tiers of pricing and it is highly dependent on the database size and the number of API calls you need in your Marketo instance. Starter Marketo subscription cost starts around $27000 annually.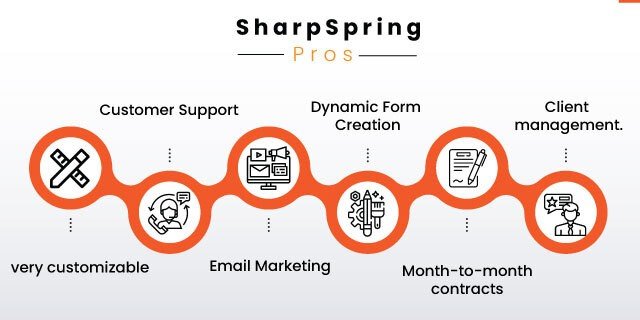 5. SharpSpring
SharpSpring is an all-in-one growth platform with a suite of tools for managing marketing and sales with built-in automation and CRM capabilities. Drive, manage, and convert more leads with SharpSpring. SharpSpring is our recommended marketing automation and CRM system. It provides all its capabilities upfront without unexpected and expensive plan upgrades allowing you to easily grow into its full potential.
Who uses: The companies using SharpSpring are most often found in the United States and in the Marketing and Advertising industry. SharpSpring is most often used by companies with 10-50 employees and 1M-10M dollars in revenue. For them, it automates actions for their sales and marketing team while making it simple to manage and analyze your actions and leads. It takes the manual work out of their everyday actions giving you time back in their day.
Pros
Sales Pipeline is very customizable for any industry
Customer Support team is very responsive and knowledgeable
Email Marketing is easy to use but powerful segmentation and dynamic content capabilities
Dynamic Form Creation – simple to use and very powerful
Month-to-month contracts – no long term commitment
Agencies features: special pricing model, rebrandable platform, single sign-on, easy client management.
Cons
Landing page builder is very basic
No native SMS or Push notification integration
Reporting – their tools are limited and there isn't an easy way to send it to a different reporting suite
Relatively expensive
No SEO recommendations for blogs
Pricing
SharpSpring has three pricing plans, as well as two other custom pricing options — Agency & Enterprise. The pricing plan below is for small to medium-sized businesses.
1,500 contacts: $550 per month.
10,000 contacts: $850 per month.
20,000 contacts: $1,250 per month.
All plans give you the option to add unlimited users, customer support, and a dedicated onboarding specialist.
The pricing plans don't end there, though. You also have the option of buying an extra onboarding plan at $2,399, in addition to your pricing package. You get training and support for the platform for the first 2 months. However, this is a one-time purchase.
Final Say
Digital marketing is growing and it's here to stay. Technology is advancing, too. This means that there are so many marketing automation tools for eCommerce businesses out there that can help you grow in profits and brand value. Add marketing automation tools for eCommerce business to the mix and all you need to do is find the perfect match.
Need a digital marketing agency in Australia to help you cut through the maze of information on marketing automation and building a martech roadmap. Contact Us!
Related Articles
---